Congratulations, you're engaged! Since you're already bursting with excitement, the first logical step is to announce your engagement to family and friends. This is also the ideal time to invest in a wedding planning tool such as WeddingHappy that will help guide you through the wedding planning process.

Making your wedding your own takes planning and organization. A great place to start is with a customizable checklist of tasks involved in planning your wedding that works backwards from your planned wedding date, starting with your engagement. This timeline will help keep you on task so nothing gets left out. Since so much of life takes place on the go, many brides and grooms prefer to have access to this information on their iPhones through apps such as WeddingHappy.

Once you have a checklist in hand, one of the first tasks will be to select a wedding date (and possibly an alternate or two). The date you choose will determine what needs to be done and when, and WeddingHappy will automatically calculate this wedding timeline of tasks based on that date. From a planning standpoint, your target wedding date will influence many of the decisions you will be making. You will also want to determine your wedding budget before getting started (as suggested by WeddingHappy), so you can make planning decisions accordingly.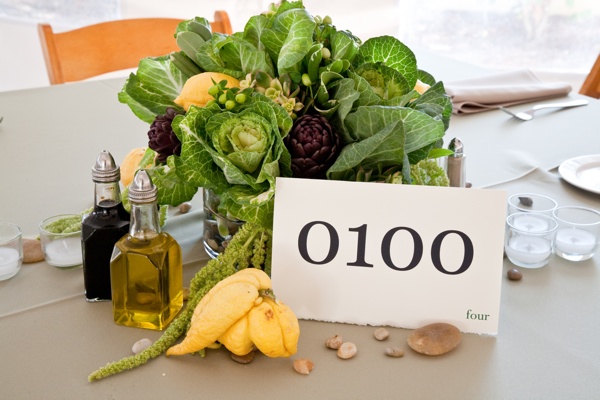 Go for it! We had binary table numbers at our wedding.

So now that you have your wedding planning tool (WeddingHappy), how do you make your wedding your own? First start by examining your personalities and lifestyles and how you might want to express those in your wedding. Are you and your fiance traditional or informal, contemporary or organic? Or a combination of these? What are both your favorite colors, patterns or textures? Defining your common interests, hobbies and preferred tastes will help you narrow down how to express those in your wedding. Inputting important notes, questions or ideas into the Notes section of Task Details in WeddingHappy will help to keep your thoughts and information organized and simplified.

Another consideration when deciding what mood to set for your wedding is the season of your wedding date and the desired venue. Are you wanting a relaxed summer wedding on the beach, or a formal winter wedding in a church? A spring garden wedding outdoors, or a fall wedding on a hilltop? Your choices are unlimited, so go with what you feel compliments your personal style best. Often times the location will inspire a color palette and other textures, so look around and see what catches your eye. Whether or not you choose to use a wedding planner, WeddingHappy gives you flexibility to enter and edit your own vendor and contact information, including your venue, so you can manage your wedding planning from your iPhone.

And, of course, there are plenty of opportunities to capture your personalities in the details of your wedding, such as invitations, programs, seating cards, table favors, centerpieces, decor and lighting. You can also put a twist on some of the usual wedding traditions, like how you make an entrance or exit, customizing vows or the type of music you choose. This is where your style will come together. And your customized WeddingHappy Tasks list will help you achieve your vision, as you add and/or edit tasks specific to the details of your wedding.

The point is, making your wedding your own requires a planning tool that is equally customizable to you so you can truly customize your wedding. Right down to sharing your unique voice by way of updates on Facebook, Twitter and email integrated into the app.

WeddingHappy gives you the tools you need to make your wedding your own…the rest is what you decide you want it to be. Happy planning from WeddingHappy.