When you live in a country blessed with warm weather, natural beauty and some of the most amazing beaches on the planet you want to spend every minute you can outdoors. So it's no wonder when it comes to popular wedding trends in Australia, outdoor weddings are right up there.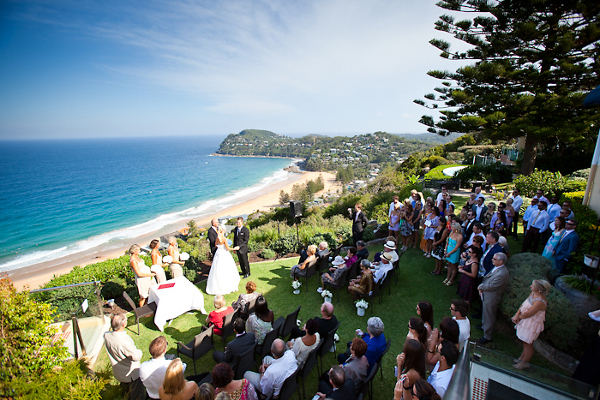 Image: McKay Photography
We celebrate all styles of weddings in Australia, from elegant functions to chic contemporary events, romantic garden parties to vintage-inspired soirees and everything in between. But it's our natural backdrops, as bountiful as they are beautiful, which really make Australian weddings special. Couples can say 'I do' overlooking a pristine beach or dramatic mountain range, between the lush vines of a winery or under the canopy of a tropical rain forest. But perhaps the best representation of our relaxed Aussie lifestyle is the Australian beach wedding.
Beach Weddings
The lure of the ocean is extremely seductive for Australians, which is understandable when you consider Australia is basically a huge island with a coastline stretching more than 25,000 kilometres.  Every chance we get, we flock to our beaches to soak up the glorious sunshine, fresh air and sparkling waters. So naturally the dream of a wedding surrounded by all that beauty is a popular one for brides-to-be. Whether a luxury celebration at a beachfront resort on the Gold Coast in Queensland, or an organic barefoot ceremony on the pure white sands of Cable Beach in Western Australia each beach wedding in Australia offers something special.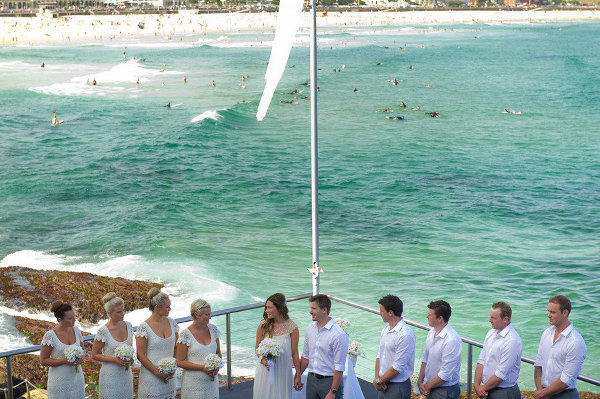 Image: Jane Allen Photography
Beach weddings in Australia look and feel very much like any other modern beach wedding except for the odd 'Aussie-ism.' For instance, if you happen to be a guest at beach wedding in Malibu you're likely to be offered complimentary 'flip flops' to stroll through the sand; whereas at a typical Aussie beach wedding you're more likely to be offered a pair of 'thongs' (which are not to be confused with the underwear variety!). Similarly, when it comes to thanking guests in Florida, they're usually given a
wedding 'favor,' while Sydney guests are given 'bomboniere' (and no, it isn't a tropical disease!).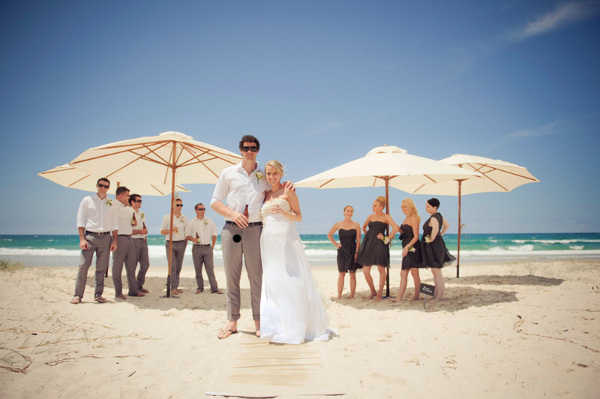 Image: Bushturkey Studio
Backyard Weddings
Another popular style of Australian wedding is the backyard wedding. These relaxed events vary from elegant soirees in the grounds of a prestigious estate to get-togethers as simple as the quintessential 'Aussie BBQ.' Casual Aussie backyard weddings typically involve an intimate gathering of family and friends in a suburban garden or under the shade of a twinkling marquee. Guests enjoy a feast of barbecued meats, fresh salads and homemade treats along with the traditional wedding cake. Heart-felt speeches are cheekily interrupted with the odd joke and the newly wed's first dance (traditionally called the 'bridal waltz') does not resemble the three-step it's named after, but a romantic slow dance of two people in love. Single girls scramble for the tossed bouquet, excited lads fall over themselves to claim the garter and melodic tunes from a live musician keep everyone in a festive mood. The wine and champagne flow freely and ice cold beer is practically mandatory for an Aussie bloke on a hot Summer's day. Finally, when it's time for the new Mr & Mrs to say their teary farewells, it's not a luxury limo waiting to whisk them away, but a groovy VW kombi sporting a 'Just Married' sign.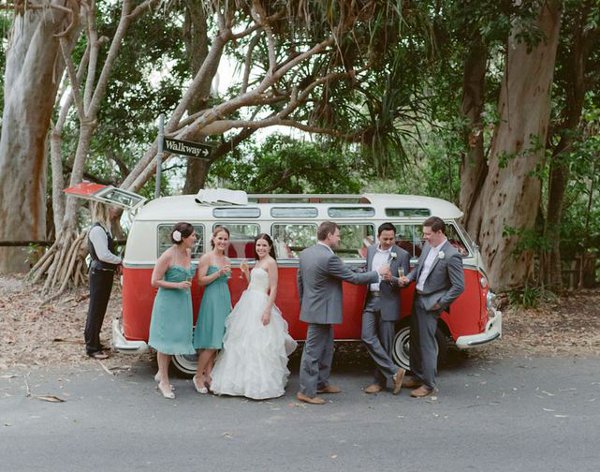 Image: Bushturkey Studio
Amazing Outdoor Backdrops
Because Australia is such a large country (twice the size of Europe), there are vast differences in our natural landscape. Each state boasts it's own natural beauty and flavour, so as far as weddings go, you can experience a wonderfully unique backdrop from coast to coast. If I had to choose which location in Australia had the most spectacular outdoor setting for a wedding, I would be struggling to stop at just one. Instead, let me leave you with a few of my personal favourites – the stunning beaches of Port Douglas in Northern Queensland, the picturesque vineyards of the Margaret River region in Western Australia and finally, it's hard to go past the iconic Sydney Harbour with it's magnificent Harbour Bridge and Opera House for an unforgettable Australian wedding.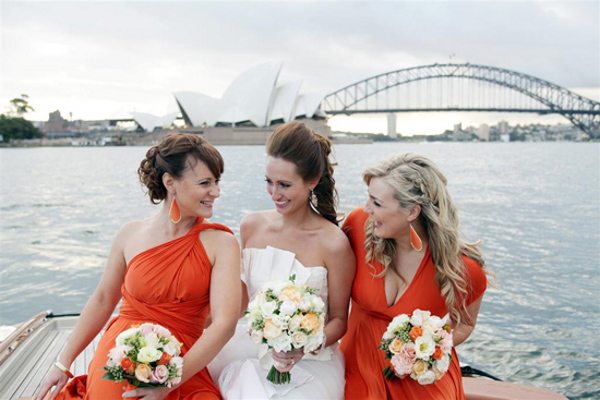 Image: Sugarlove Weddings
A very special thank you to our friend Kym, editor at LoveWedBliss.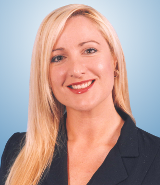 Kym Mulcahy began her career in the entertainment industry working as a professional singer and events co-ordinator. In 2003 she ventured into advertising and marketing working for some of Sydney's most successful marketing leaders.
After leaving the corporate world in 2007 to become a new mum, Kym reassessed her career goals and studied communications and media writing in between changing nappies.
A creative thinker with an entrepreneurial spirit, Kym combined her love of writing and weddings with experience in events and marketing and created Love Wed Bliss in 2010, an Australian wedding blog providing stylish inspiration and ideas for brides and wedding planners worldwide.
Kym is dedicated to sourcing innovative wedding inspiration and passionate about helping bride's make their wedding day personalized, stylish and unique. She resides in Sydney Australia with her partner and little boy.