For most of us, our mobile phones are our lifelines that help us manage our busy lives.  If you can't imagine life without yours and your Favorite Contact has just popped the question, then chances are you'll be planning a wedding on the go.  But…can you really use an iPhone wedding planning app to keep your wedding planning organized?
Absolutely!  But not all wedding planning applications are created equal, nor are they designed for the same purpose.  It really depends on the needs and wants of the user.  So, then, how do you choose the best wedding planning app for you?
Let's start with your needs.  If you're planning a wedding, any expert will tell you that the real wedding planning begins after you've announced your engagement and set the date (or at least have one in mind).  But then what?
Need #1:  A wedding planning checklist
Many wedding planning apps provide a general checklist, often in reverse chronological order, to help guide you through your wedding planning.  Most importantly, however, is that you have a list of tasks to get your planning underway.  Your list should guide you through what needs to be done and when, and let you check off tasks as you complete them.  An added bonus is an app that will integrate these tasks into your calendar so that you can effectively manage your wedding planning (appointments and due dates, for example) within your schedule.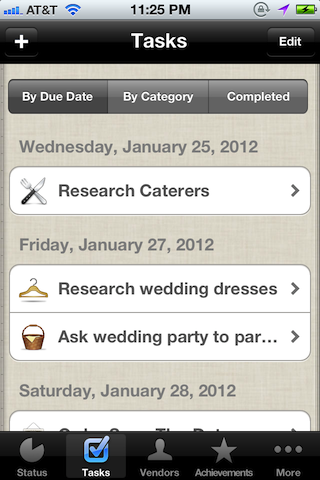 Need #2:  Flexibility
Since your wedding is unique to you, you will get the most out of an app the gives you flexibility.  Your wedding to do list for planning a destination wedding in the tropics is going to be much different than your wedding planner checklist for a winter wedding in a church.  Invest in an app that will let you make changes to your list, change dates when necessary, delete tasks that don't apply to your particular wedding, and add the task items that are specific to your wedding.  And be sure to have a place where you can make notes that you can access easily.
Need #3:  Manage your contacts
When it comes to pulling together your wedding, your vendors are key.  And you will likely have a lot of them to manage.  Your iPhone application will keep you organized best if it allows you to input the contact information for the vendors you hire and associate them with the task/s (or checklist item/s) for which they have been hired.  This keeps things simple and efficient.
These are the basic features you will need to get your wedding planning organized.  There will be additional needs, like managing your guest list and creating your seating chart, and there are many wedding planning applications on the market that incorporate these features.  However, keep in mind- especially if you are more visual and prefer to use charts and spreadsheets- that many of the mobile apps for iPhones do not offer a way to upload or print this information.
Whether an app fulfills what a user wants really depends on the user.  Some brides love to see the endless pages of dresses and cake photos on their app for inspiration, while others may find it overwhelming or simply prefer to get and gather that information elsewhere.  Generally speaking, you will want an app that feels intuitive, easy to use and navigate, and something you feel confident in using for planning such a grand occasion.  Read reviews, talk to fellow brides and do a little research on customer service.  After that, you'll be well on your way to actually using a wedding planning app to keep your wedding planning organized.  Congratulations and happy planning!